Last week, I completed a playthrough of the classic adventure game Grim Fandango. For those who haven't played, Grim Fandango takes place in the land of the dead, where departed souls must traverse before reaching the afterlife. You play as a travel agent Manuel "Manny" Calavera and try to save Mercedes "Meche", a virtuous soul, on her trip through the land, as well as uncover the corruption in the Department of the Dead.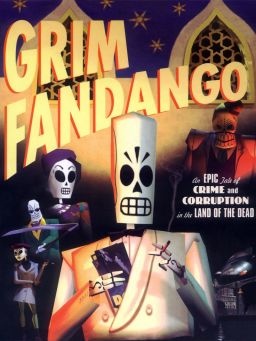 Image Source: Wikipedia
One of the locations that you visit is a port town called Rubacava. All souls must pass through Rubacava if they want to cross the Sea of Lament to make it through to the afterlife.  After Manny's one year wait, Meche finally arrives but is being held hostage by one of Manny's ex-coworkers, Domino. They escape on a boat causing Manny to need to acquire passage on a boat to chase after them. However, the only ship left is a cargo ship and he's going to need a union card, one of the sailors to drop off and a set of mechanic tools if he wants to board. 
To me, this was the most fun section of the game. It was one solid chapter broken into three sections.  (Yes, technically there was a forth puzzle where you had to get your club shut down, but I found that section confusing and detrimental to the pacing). I thought it would be interesting break this section down to see how it was paced and how all of the locations were used. I was especially interested in how many items per puzzle existed in the environment verse how many were obtained through puzzles. 
Note, these puzzles can be done in just about any order, however, I liked the flow that IGN used in their streamlined walkthrough. To break down the game, I labeled locations as the player arrives to see where Items were being found and used: 
| | | | | | |
| --- | --- | --- | --- | --- | --- |
|   | Items Found | Item Obtained through Puzzle | Items Used | Locations Traveled | Areas Opened |
| Union Card Puzzle | 2 | 2 | 4 | 5 | 3 |
| Job Opening Puzzle | 2 | 3 | 4 | 7 | 0 |
| Get Tools Puzzle | 3 | 6 | 8 | 9 | 1 |
Furthermore, I broke the game locations into thirds and took a look at how many items a character got in those locations and how many items they used in those locations: 
| | | | |
| --- | --- | --- | --- |
|   | Items Obtained | Items Found in Environment | Items Used |
| First Third of locations | 10 - 11 | 7 | 6 |
| Second Third of locations | 5 - 6 | 0 | 6 |
| Last Third of locations | 2 | 0 | 4 |
The interesting aspects that I see is that Items found in the natural environment are fairly consistent per puzzle, you'll need to find 2 -3 objects. However, these objects are only found in the first 3rd of the stage locations. This breakdown leads me to believe that that the designers needed to front-load all of the environment items to the first 3rd of locations because that opens the puzzles up to be solved in any order. I feel like this can be a pro and a con because it will allow the player to work on a different puzzle if they get stuck on one but it makes exploring later environments less rewarding. As for the pacing, it seems to follow a general interest curve: In puzzle one, a relatively low amount of items unlock most of the environment while you explore and gather materials, which feels great. In puzzle two, there is a slight ramp up in complexity as you use more of your items. In puzzle three, you are given a chain of item uses and a new area to punctuate the stage. 
Doing this process has been interesting and I am interested in breaking down other puzzle games to see how they work! 
As always, follow me on instagram @hemlockmurder, facebook and on twitter @hemlockmurder!   
And don't forget to sign up for my newsletter. It comes out every month and I try and release special behind the scenes info. I'm trying to get 400 instagram followers and 200 twitter followers so everything helps.